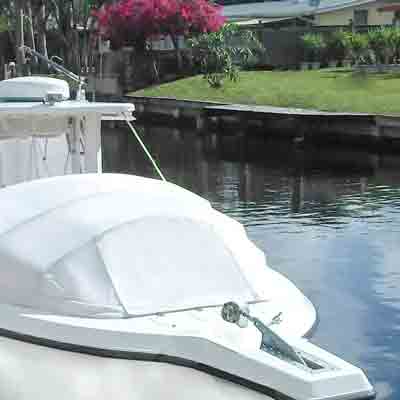 If you own a boat, you know how much fun it is to cruise, pull into a spot on a bank and spend a day or night.
Boating can be such a relaxing activity, that you might feel like sleeping on your boat sometimes. Instead of going home or pitching a tent at a nearby campground, set up an instant cabin that provides privacy and shelter right on your boat.
Our high-quality marine canopy THE ELEMENT® might be just the right solution for you and your family to enjoy on your open bow vessel. With THE ELEMENT®, you can extend your day trips into vacations, enabling you to take as many vacations as you want. THE ELEMENT® can extend your boating season by protecting you and your family. Our product is not a Bimini Top or a Bow dodger, it is a high-quality Prefab instant cabin.
THE ELEMENT® will provide you with plenty of sun, rain and wind protection, but still provide you with good visibility and headroom with sufficient air circulation whether you are cruising or mooring. THE ELEMENT® will lock out mosquitoes and other flying insects while you are camping on the water. No smell of mildew, and no extras to worry about like in a traditional cuddy.
THE ELEMENT® easily comes off for fishing in under 1 minute and goes installs in less than 5 minutes, to turn your fishing boat into a family cruiser with a cabin. THE ELEMENT® comes with a well-designed case which allows you to get it out of your way while being easily stored onboard.
THE ELEMENT'S® patented design will not only give you a lightweight and yet an exceptionally strong product, but will also allow you to customize the canopy to your vessel's bow dimensions.
You can call it a sprayhood, bow dodger, bow Bimini Top or boat cover … THE ELEMENT® will transform an ordinary open bow vessel into a fun family cruiser. Now the sport fisherman can have his young ones on board.
THE ELEMENT® comes with an easy do-it-yourself installation guide with step-by-step instructions, aluminum support poles sturdy enough to keep it open underway. THE ELEMENT® is made of UV resistant, 100% Marine
woven acrylic fabric that is water and mildew repellent, and with our notable design, it does not collect rain.
THE ELEMENT® will transform your vessel and take it to the next level!