Ready to get out on the water with family and friends? Whether you are planning a quick trip with buddies that has an end time or when enough fish caught (or you run out of beer), or a weekend family excursions with the kids, there are 8 things you always need to have stocked on your open bow boat before leaving the dock.
1. Lifejackets: This is a must-have, and you can't settle for just a couple in random sizes. Make sure you have a lifejacket for every single person on board, appropriately sized for children and adults, and don't forget life vests for the dogs if they come along. Flotation vests save countless lives every year.
2. First aid kit: Start with the basics – antibiotic ointment, Band-Aids, bug spray – and add an Ace bandage wrap, large sterile gauze squares and rolls, hydrogen peroxide, and cleansing pads. If anyone on the trip uses an Epi-Pen, add one to the kit, and also make sure any other medications are included such as asthma inhalers, heart medications, or insulin.  
3. Radio and/or cell phone: Your cell may or may not work on the water depending on how far from a tower you get, but bring it along. You should also have a radio so you can contact marina officials or emergency services in case of an issue. You can also keep track of weather reports and advisories.
4. Staying dry; Blankets and extra clothing. If someone does take an unexpected plunge, and the weather turns cool, hypothermia can set in even in the summer after dusk. Having a way to get warm and dry quickly is imperative. Snap-activated heat packs are also helpful.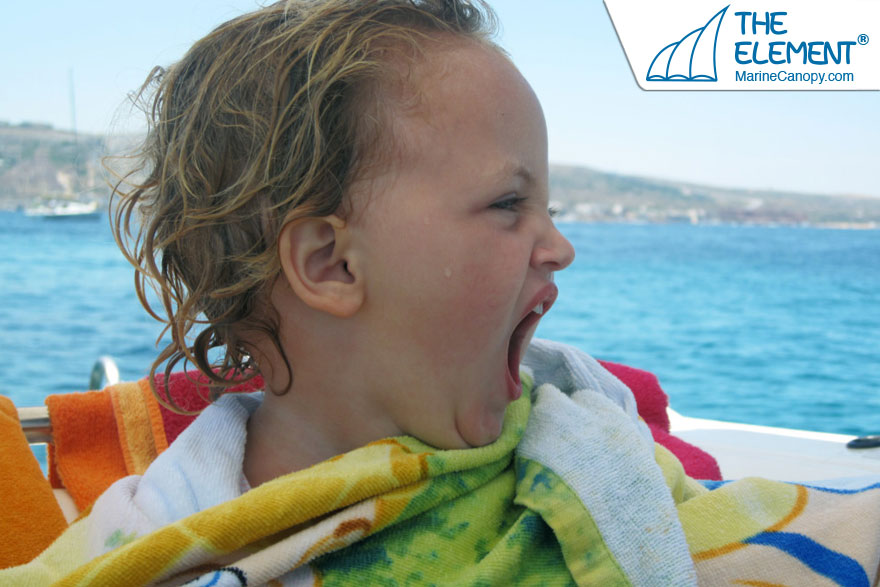 5. Anchor: Every boat should carry an anchor on board. This can serve several purposes – allowing you to safely anchor without running into the shoreline, and to prevent your boat from drifting downstream. In emergency situations, such as loss of power or stormy weather, this can be invaluable.
6. Toolbox: Don't forget a basic tool kit with appropriately sized wrenches and screwdrivers. Add duct tape, cable ties, rope, and WD-40 for an emergency fix-it solution. A working flashlight with new batteries and spares is also a must.
7. Shade; The ELEMENT marine canopy. A prefab bow dodger solution instantly transforms your open bow center console boat into a luxury family cruiser, providing protection from wind, rain, sun, and bugs.
8. Safety items: often required by law, these items should be a given. A whistle or horn; visual distress signals; and a fire extinguisher can all be invaluable in case of emergency.
By making sure you have all of these items on board your boat before you cast off again, you can help ensure your next trip is as safe and enjoyable as possible!
For more information on The Element Bow Dodger solution, please visit marinecanopy.com